Akalites want street traders opposite Crusade Hall evacuated.
2 min read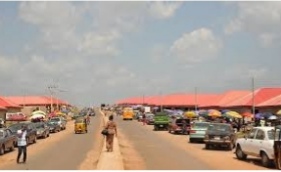 Street traders who do the business of selling window blinds in front of Umuaka Unity Park and Central School Umuaka may soon be relocated to another corner of the market for safety purposes if the requests of some sympathizers who spoke with Umuaka Times last week are granted by Umuaka stakeholders.
The reason for the recommended relocation according to some Akalites who shared their views with Umuaka Times, is because the business area is very close to the express road which in return poses a deadly danger to the traders and their prospective customers. Sometime ago in 2022, Umuaka Times did a documentary video on the inherent dangers that are associated with trading in the area and shared it on the internet. Those who watched the video almost immediately called for a prompt action concerning the risky business venue. Each person recommended that the traders should be relocated.
In the documentary, Umuaka Times called on those who manage the Central School Umuaka, Orlu Owerri Road and Afor Umuaka Modern Market to send away those doing street trading at the corner because it was likely that one day, an accident would occur at the place and claim lives.
As Umuaka Times predicted, a couple of weeks ago, an Isiozi girl became the first victim of the warning issued by Umuaka Times. A tipper carrying sand lost control and hit the poor girl. Her head was busted open and almost ripped off from her body. As if that was not enough, the vehicle still went ahead, under total loss of control until it was forced to stop when it eventually hit a motorcycle parked beside the road.
Eye witnesses who watched the tragic incident, noted that it was the motorcycle that waged the vehicle otherwise, there would have been more than one casualties.
The Isiozi girl who was crushed to death as a result of the accident had been buried and if nothing is done, another tragic incident will soon be recorded in the community.
An Akalite who introduced himself as Charles seriously warned that it is a question of time."Honestly, we will one day hear the real bad news about these people who do street trading in front of the park. It is just a question of time."
As at now, there is no plan Umuaka Times is aware of which focuses on the recommended relocation of the street traders.