Anniversary edition: Meet Dr Stephen Duru, the shipbuilder from Umuaka.
8 min read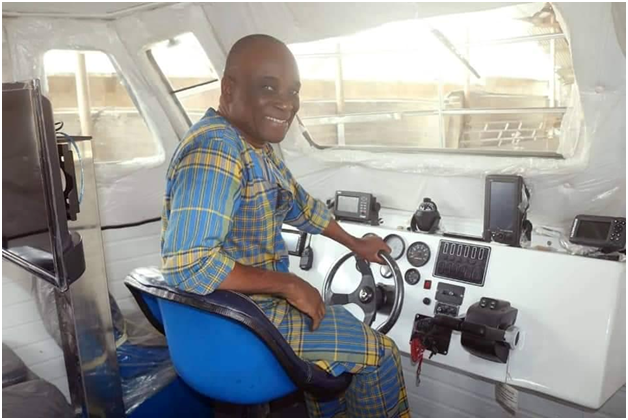 Talk about the new breed Nigerian manufacturers of today, our own son, Dr Stephen Duru is among the first ten. According to what he told Umuaka Times in a recent interview, that the gentleman has been in the business of shipbuilding over the year. He builds and supplies to his clients and his boats are known for their excellent performances, durability and comfort.
According to him, "The inspiration to build marine vehicles has always been there from childhood and it is what I have always desired to do."
Despite his talents in science and technology, Duru tried his best and harnessed his talents with a lot of academic excellence; higher diploma in Marine Engineering, Master of Technology (M.Tech) in  Naval Architecture  in Shipbuilding and first degree plus a  Doctorate Degree(PhD)  in  Naval  Architecture  and Ship building.
With all these loaded academic laurels, Dr Stephen Duru is a senior lecturer at the Niger Delta University in Bayelsa State where he moulds students to face the scientific challenges of tomorrow.
When gentleman and the Executive Director of Stemarine International and Technical Ltd shattered the Internet last month with his unique boat, Umuaka Times went in search of him and later found him in Port Harcourt where he granted an exclusive interview to Umuaka Times. He was really pleased to discuss issues with Umuaka Times.
Already he may most likely be the Umuaka Times Manufacturer of the Year.
Excerpts:
Congratulations on your new scientific achievement. Can you tell us a little about your background?
My name is Dr (Engr.) Stephen Chidozie  Duru. I was born in 1956.I am a bonafide son of Amiyi  in Umaka,  born into the family  of late  Mr. Titus Nwokemand Felicia  Duru and an alumni  of St. Saviour's Secondary school Umuaka.
What training do you have?
I am a Marine Engineer, a Naval Architect/shipbuilding and the Director,
We heard that you are also a lecturer. Can you confirm that sir?
I am a senior lecturer at Niger Delta University, Bayelsa  State, Nigeria
From the story you told, it appears you were a little boy during the Nigerian Biafran  war. Any war experience?
I was ten years old in 1966. I was born and bred in Maiduguri and a refugee from the North to the East in 1966.
That is wonderful sir. Were you in any paramilitary body during the war?
I was in the civil defense during the Biafra war.
What led you into reading Engineering?
My father was an engine operator and I have the brain and aptitude for engineering. I was consistently good in sciences and practical works from school day still now.
You read Engineering.  Can you say that Nigerian engineers can do better if given  the same opportunity with their  foreign competitors?
The Nigerian Engineer can do as good as his counterpart anywhere in the world if awarded the contracts in their specialized fields of studies.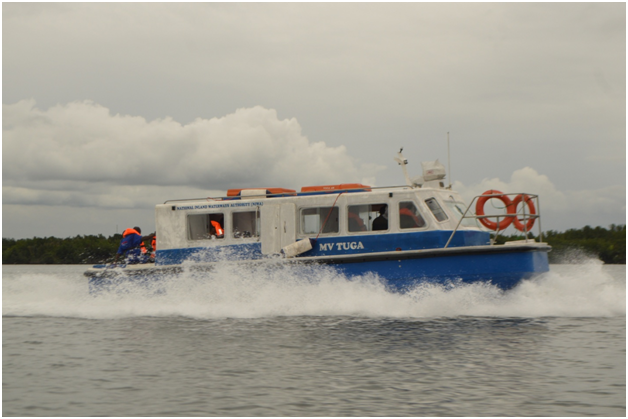 What you built, was it a boat or a ship?
I built a 30-man passenger boat. This is one of the many vessels I have built in the past. I have designed other vessels such as trawlers, dredgers, ferries, cargo ships and I have also designed and built tugboats and barges amongst others including the recent passenger boat MV TUGA.
That is amazing sir. Is there any difference or similarity between a boat and a ship?
Boats and ships are very similar in terms of functions and operation, differences between them lie in scope, range of operation and scale in size.
Ok now the big question. Tell us what gave you the inspiration to build a boat and how it all happened?
The inspiration to build marine vehicles has always been there from childhood and it is what I have always desired to do. I am a professional with  a Doctorate Degree(PhD)  in  Naval  Architecture  and Ship building: Master of Technology (M.Tech) in  Naval Architecture  in Shipbuilding and first degree/higher  diploma in Marine  Engineering. I am only practicing my profession.
You called your boat MVTuga. Why?
Think of it, ships carry the great trades cargo of the world from slavery times to free trade times of today. Shipbuilding and sea faring begins and sustains the economic development of civilized  nations.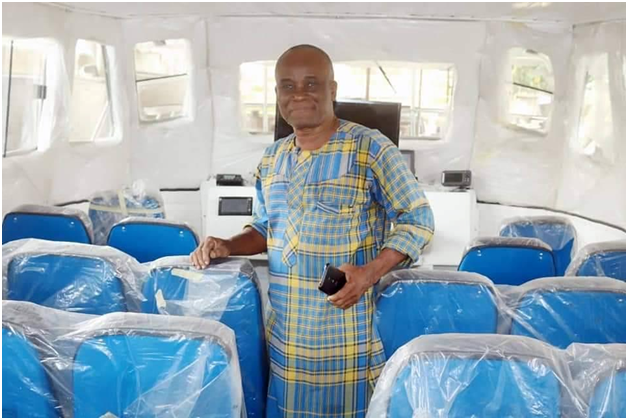 The pictures of your boat are all over the internet and in many media houses. Everybody is commending the work. Please how much did it cost you to build this boat?
The cost of building a boat or ship is subject to negotiation depending on the specification of the vessel. Ships and boats are very expensive.
Who were the other firms and individuals that played vital roles in this project?
No other firm helped in the work of building of the boat. It is just me and my workers who I trained that built the vessel.
These must b some other helpful hands sir.
Vendors and Suppliers of materials, installation equipment and engines were also very helpful.
Do you intend to be building for commercial purposes?
I have always been building commercially for my clients.
Oh really? So who did you build the MVTUGA for?
This boat MVTUGA is built for the National Inland Waterways Authority (NIWA). They gave the boat her name TUGA. (See my video on Facebook).
How long did it take to build the boat?
The building of the boat took the span of about three months.
Except finances, what were the challenges  you had during the building?
The challenges we always have in the boat building  industry are as follows: A.lack of contracts due to the slow-down in  the oil and gas industry.B.Nigerians  prefer to buy new or second hand boats outside Nigeria  than to allow  fellow  Nigerians  to build for them.C.Training  man-power for this industry is a problem as well.  I am lecturing in the university  for this purpose and also doing workshop training  for candidates.D.Lack of interest  in development of ship building  in Nigeria  by the key players in the industry is also a big challenge.E.Insecurity and pirates 'activities  emanating  from the militancy  in the Niger  Delta region  deter exploitation  of the coastal waters of West Africa.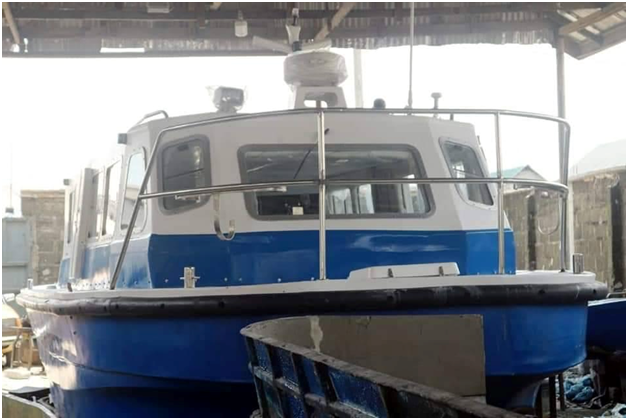 Who did the architectural design of MVTUGA?
Being a Naval Architect myself, I did the architectural design. It is part of my job as a designer/builder.
How would you describe the design of the boat?
The design of the boat is unique and entirely mine.
Do you collaborate with some corporate bodies or governmental  agencies and foreign bodies?
No collaboration is available yet. The boat is already supplied to NIWA, a Federal Government agency of Nigeria.  We are looking forward for patronage from other individuals, national and international or world bodies.
Has the office of the government agency you built the boat for accepted it?
The boat MV TUGA is built for a Federal Government agency and they love the boat exceedingly due to the excellent performance and beauty of the boat. The office has accepted the boat with much satisfaction to the glory of God.
What s the lesson you want the government and the people of Nigera to learn from this your wonderful achievement?
It proves that what they can get abroad, spending so much money, they can get it better here in this country, at better rates.
That is true sir. Tell us the durability of this boat and the speed limit as well.
The boat is a solid 30-man passenger boat with the durability that can cover the lifespan of a minimum of one hundred years. The speed on trial was 27.8knots on light load and25knots fully loaded.
How did you arrive at this calculation sir?
This 25knort was the design or client demanded contract speed, so the boat is internationally classified as High Speed Craft HSC produced indigenously in my boatyard in Port Harcourt.
Do you agree with some people that people like you and Dr. Innocent Chukwuma of Innoson Motors need government support? If yes, why?
First and foremost, let me commend my brother, Dr. Innocent Chukwuma for being an illustrious son of Igboland. We have a lot of people like him in Igbo land but as you said, we lack support. Igboland is richly blessed with talented, creative, technologically minded people who can do so much more if given just a little leverage. We need government support. Government support is very important. With the government's support, the ship building and automobile industries can give employment to millions in the Nation, improving tremendously the economy of the nation.
What is your view concerning sea and land transport business in Nigeria?
Sea and land transport is the bed rock of economic development of nations.
So what is the roadmap for you with regards to your boat building business?
The aim is to continue to move ahead, working diligently, incorporating others who are willing to learn the skill and extending our frontiers beyond Africa to the world as a whole.
Are you aware that many people don't know that you are from Umuaka?
This comes as a surprise to me. I am from Umuaka. I attended part of my primary and all my secondary school here in Umuaka. However, those who do not know now know that I am one of them.
Please can you greet Umuaka people in a special way just to convince them that you are an Akalite?
"Ndi Umuaka udo diri unu o"(General laughter).
Sir please how united is the Umuaka Union here in Port Harcourt?
I was once an officer in Umuaka Union in Port Harcourt. We are strong and highly united.
What is your impression of Umuaka of today? Are we really progressing?
Umuaka is growing tremendously. I must advise that we keep ourselves growing stronger.
What is your message for your people in Umuaka, Rivers State and beyond?
Charity begins at home. Encourage your brother in his endeavors for progress in the family. Don't bring down your brother. Anything that will bring about the progress of the family and the entire community, one must never relent to do. We should always encourage one another in hard work for the good of ourselves and the community as a whole.
What do you want them to avoid?
We must avoid jealousy or other forms of pettiness.
How do you feel whenever you see the state of the Umuaka Community Hospital today?
Umuaka Community Hospital is built on my ancestral land. The management, finances and funding for modern hospital equipment need to be provided. Our politicians should seek government help from Imo State, from Federal Government and from world organizations for the improvement of the hospital.
May God always bless your handwork sir. Thanks for your time.
Thanks a lot too.