Engineer Amaechi Dikeocha receives his Covid19 Charity Award.
1 min read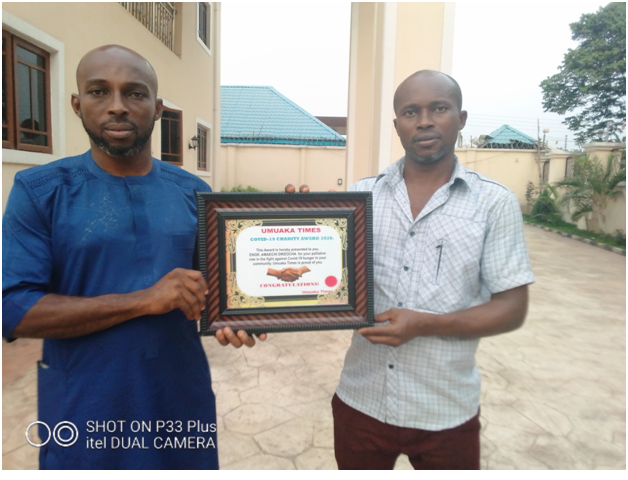 One of the winners of Umuaka Times Covid19 Charity Award, the UK based Engineer Amaechi Dikeocha last week received his award from Umuaka Times. The presentation ceremony which was witnessed by the Dikeochas, Chief Oluchi Nwanarado and Mr Ndubuisi Onyekwere was held in the country home of the engineer who was far away in the UK.
After Umuaka Times had explained the reason for the award, all the persons present concurred and took time to thank Umuaka Times for the honour. They described the engineer as a real son of the soul who is a big asset for their community.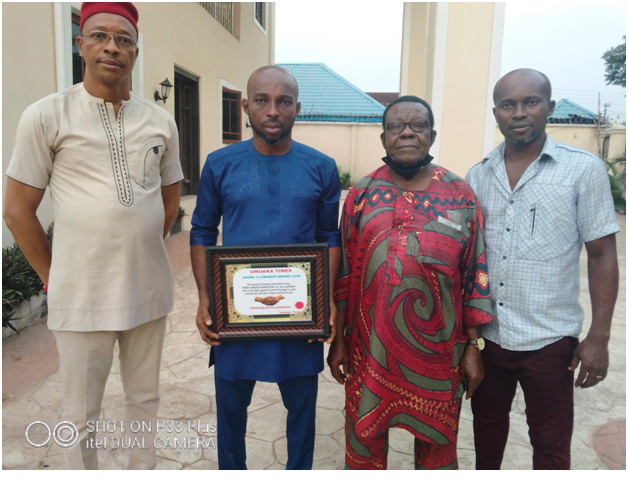 In a telephone chat with Engineer Dikeocha, he thanked Umuaka Times for the honour and confirmed that the Covid19 palliatives he gave out in his Achara community were strictly for the very poor.
While responding to the award, Chief Oluchi Nwanarado extolled the virtues of Engineer Dikeocha and concluded that he learnt the act of giving from his dad. He prayed that God will continue to bless Engineer Amaechi Dikeocha in all his dealings.
Engineer Amaechi Dikeocha was not in Nigeria during this presentation. He delegated family members to receive the award on his behalf.