Eze Justin Ezeala issues vote of thanks.
2 min read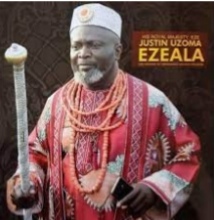 The royal father of Obinwanne Umuaka Autonomous Community HRM Eze Justin Uzoma Ezeala has issued a vote of thanks to all the people who contributed in one way or another to the success of the N500 million church project launching held on September 18, 2022 at St Patrick's Parish Obinwanne. While speaking with Umuaka Times after the event, the Eze Nwanne 1 of Obinwanne disclosed that he was very well pleased over the turn out of his friends, community people and events that made the entire event a huge success.
In his words HRM said: "This is a community that I so much love and ready to commit more resources to develop it. I will never look backwards on anything I want to do for my community. I thank you people so much for being a part of our success story."
On his friends who came all the way from Lagos, Abuja, Port Harcourt and many other parts of the country in order to witness the event, the royal father disclosed that he cannot thank them enough for their sacrifices. He also extended his thanks to those who could not make it to the event due to one reason or another.
The priest who officiated the Mass at St Patrick's Parish Obinwanne, Reverend Father Egwuogu was another person who received a special thanks from the royal father. Eze Justin thanked the priest for all his commitment towards the Obinwanne people and prayed God to continue to bless him. He also urged the priest to always remember them, the people of Obinwanne in his prayers daily.
For those organizations such as St Patrick's Obinwanne Parish Council, Christian Fathers Organization, Christian Women's Organization, the choir, the youths, Mass Servants and community organizations like Obinwanne Council of Chiefs, members of Eze's Cabinet, church launching committee and many others too numerous to mention, the royal father thanked them for their commitment and prayed God to continue to protect his children.
Before he closed his vote of thanks, the royal father thanked the Almighty God for the protection and love he has shown Obinwanne people over the years.