My Dad My Favour. By Favour Awuzu.
4 min read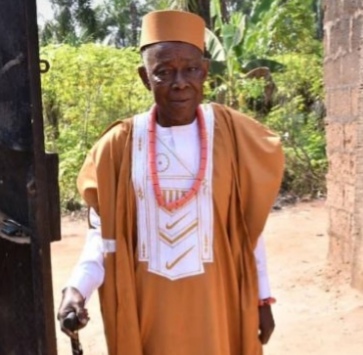 Nnaoma Damian Stanley Awuzu was born to Awuzurudikeonu Obiagwu and Onyemaechi Awuzu on 27th September 1944. He was the first son and 3rd child out of 5 surviving children. He lost his father at an early age and saddled with the responsibility of stepping up as a father to his siblings.
His belief in education was like religion and despite the tragic death of his father, he insisted on completing his education. He went to St Joseph's Catholic School now River Side Primary School Isiozi and later proceeded to St Saviour's Secondary School Isiozi as one of the pioneers. He went to Umudike College of Agriculture where he got his OND and later HND. He became the foremost graduate in Umudurudim, Umuduruofor, Isiozi-Akah.
He worked with Small Holders Oil Palm Project and later worked with Supervised Agricultural Credit Loan Board where he retired as a Loan Supervisor after 36years of meritorious service. As a Loan Supervisor, he was responsible for short- listing names of farmers that applied for loans for considerations. A position many would have used to enrich themselves yet, he held tenaciously unto his virtues.
At early stage, Nnaoma Damian Awuzu renounced paganism embraced Christianity. He was baptized into the Holy Roman Catholic Church, received Holy Communion and later Sacraments of Confirmation and Holy Matrimony. He was a devout Christian whose faith in God remained unwavering throughout the trials and challenges of life.
He not only lived and maintained the Christian virtues and values in life but ensured he imparted same in us his Children. Those who worked with him knew he was not a man to be bribed. He was forthright and honest in all his dealings with people. He was peace loving and lived a very modest life. He was as loving as he was caring. He did not have much but always shared the little he had with anyone he came across.
Damian Awuzu married his heartthrob Unique Mother, Ezinne Bernadine Chinedum Awuzu in 1969 and their wedding was blessed with 7 children. He ensured his children received education and made us appreciate the importance of hard work. He taught us, his children to pray and raised us in the ways of the Lord. His devotion to the things and service of God made him send his first and second sons to the seminary so they could become priests but God has different plans for us for many are the desires of the mind but what God desires must surely come to pass.
Nnaoma Damian was a community leader and peacemaker. He maintained peace with his neighbors and colleagues. He was one of the foremost members of Umuaka Development Union (UDU) and served as Secretary of Aba Brach He was a onetime Chairman of Umudurudim family Union. He was a member of Isiozi Akah Constitution Committee that drafted the Constitution with which Isiozi-Akah autonomous Community was created also known as Isiozi-Akah Model.
As the Bible noted in Ps 126:5 that those who sow in tears will sing when they reap. You sowed in tears with your wife our mum. You both struggled to see us through education and to ensure that we are successful. You prayed and fasted ceaselessly for us to be successful. You went hungry for us to feed. You borrowed for us to succeed. As a result of your dedication and unwavering faith in God, God rewarded you and in 2015 you traveled to the United States where you lived and died.
You spent the last 7 years of your life in the United and enjoyed all the good things life had to offer. Even when you were sick. you received the best care. As a survivor, you beat cancer and bounced back in good health till that fateful day when you completed 3 nights vigil. You went out for walk and came back as usual. Had your shower, welcomed and joked with your grand daughter Chimazanam as usual, ate your favorite meal, finished your program with Evangelist Ebuka Obi of Zion Ministry, tuned in Apostle Suleman's program which was still playing, went in to your room, sat down and took your last breath. Your transition was the most peaceful and stress-free.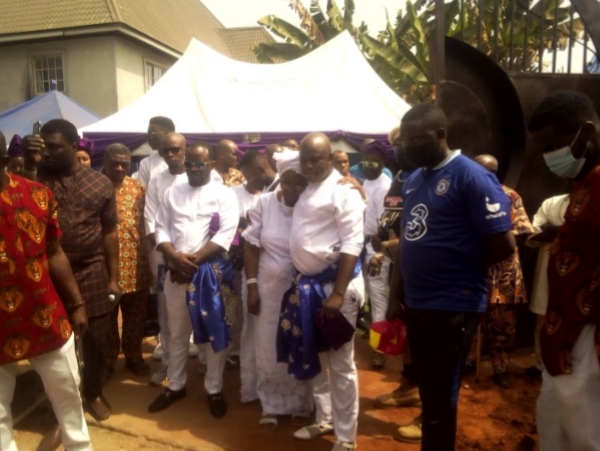 There is no doubt that you went straight to heaven as no man has been better prepared for the last journey than you were. A testament is the miracles of nwanwa gi Dennis Awuzie, your Benjamin, Precious and for Terry (the son) of your most beloved son Okechukwu to witness this day all affirms that you are at the throne of mercy and grace interceding for us as you did while alive.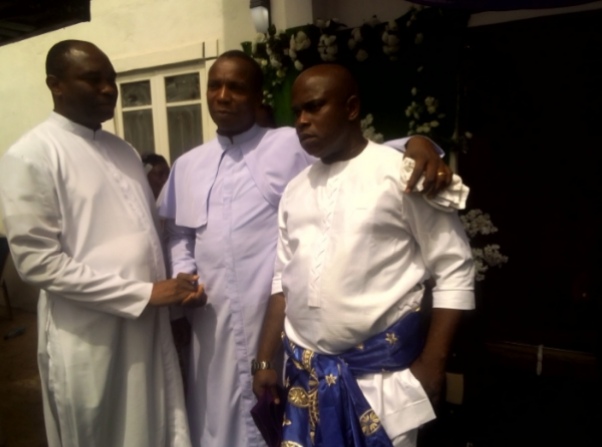 No man they say is successful until he has a successor. You are very successful. You passed as the father of the National President of Umuakah National Union, USA. You left a peaceful family and your legacy leaves on. You only transitioned from living physically with us to leaving in our hearts. May God grant you a deserved eternal rest and may your memory remain a blessing unto us Adieu Ezinna mutara ezi umu, God be with you till we meet again.
Quadruple High Chief Dr. Favour Awuzu.
(Amutaezinwa 1 of Umuakah) for the family