Diamond Club worried over motorcycling obsession by Umuaka boys.
4 min read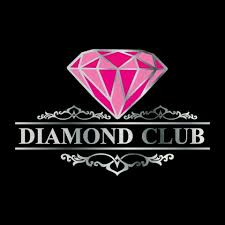 There seems to be no end to the tragedy of reckless motorcycling which occurs at any time of the day by many young Akalites who have managed to by motorcycles at their very tender ages. From the observations Umuaka Times made, some of these motorcycle owners are still in their secondary schools and some are as young as 15 years. The level of over speeding, with no regards to traffic signs so far displayed by these young riders,, can never be ignored by any sane society.
Last week, Umuaka Times had an opportunity to attend an evening get-together with Proactive Diamond Club of Nigeria where the issue was raised. All the members of the group who spoke to Umuaka Times showed their dissatisfaction and disapproval over the development and called for an outright intervention.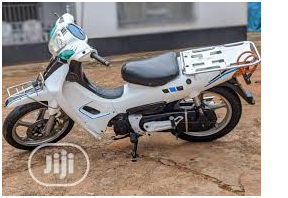 The first person who spoke with Umuaka Times at the meeting was the traditional ruler of Umuele Amazano, Eze Caesar Duruegbusuo. The royal father told Umuaka Times that the royal fathers and the stake holders in Umuaka are watching the development and will never allow such an ugly development to continue to gain grounds in the community. He confirmed that the motorcycling obsession is being noticed by everyone in Umuaka. Eze Caesar in his own words painted an ugly picture of the whole scenario.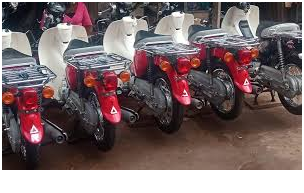 "At times these teenagers will be up to 20 in a convoy and they would all like to overtake a vehicle at the same time, not minding if the driver  is experienced or  not. That alone can lead to a serious traffic accident. We have seen and observed all these rascal activities of these our children and we are not keeping quiet."
Asked if speed breakers such as road bumps will reduce the over speeding. The royal father told Umuaka Times that bumps are not enough to stop the problem but assured the people that very soon, a task force will be put in place to checkmate the motorcycling activities of these teenage riders.
Another prominent member of Diamond Club, Chief Arthur Obieze who spoke at the event totally frowned at the development and wondered where the teenagers of today learnt this risky behavior from. "This was never how we grew up here in our days. When we were growing up, we were going to stream and farm for some women who lost their husbands and some other aged women free of charge and we were receiving their blessings almost daily. Today, the trend has changed. No more respect, no more morals and no more healthy competitions among teenagers and youths."
Still complaining about this trend, Chief Obieze told Umuaka Times that he could not see the genesis of this because he does not know if this trend is as a result of ritual activities or smoking habits by these young Akalites. On his solution to the problem, Chief Obieze suggested that all the royal fathers have a role to play and make laws that would checkmate this problem.
Chief Vitalis Nwanyanwu who spoke briefly on the issue summed his reaction thus. "The scenario is not only worrisome, it is also troublesome. I went to play Naijabet and I saw three boys with swollen and bandaged heads. The first person, motorcycle accident. The second person, motorcycle accident. The third person, motorcycle accident. It did appear to me, that we have learnt nothing and have forgotten nothing. At the end o the day, in the next 5 years, it will be terrible."
Chief Julius Ezeta who also spoke with Umuaka Times said that since the road which passes very close to his compound linking Amiyi to Afara communities was tarred, it shocks him and renders him speechless when he sees how reckless "our boys drive on this road. Sometime ago, I advocated that we should construct bumps on this particular road but I was ignored. Instead, some even suggested that the bumps already on the road be removed."
Chief Ezeta eventually appealed to parents to call their children to other.
The last member of Diamond Club who spoke on this ugly development was Mr Chidi Iwuoha, the current president of Diamond Club. In his reaction, he did not only describe the trend as unusual but he went further to term the young motorcyclists as uncultured children of Umuaka."This is not our culture and I am certain about it.. This recklessness is a borrowed social culture. It is never in the character of our boys to behave this way. As at today it is only Diamond Club that has demonstrated its interest to look into this matter by December."
Since last month, when Umuaka Times came up with a story on the motorcycling recklessness of young cyclists in Umuaka, many prominent men and women in the community have been commenting on the dangerous trend. On thee other hand, these teenage riders are not always lucky, ssome have fallen down and sustained serious injuries. Some days back, one Ebuka was involved in a motor accident with his motorcycle and he died on the spot.