Father Padre Angelo leads peace procession to Orlu.
2 min read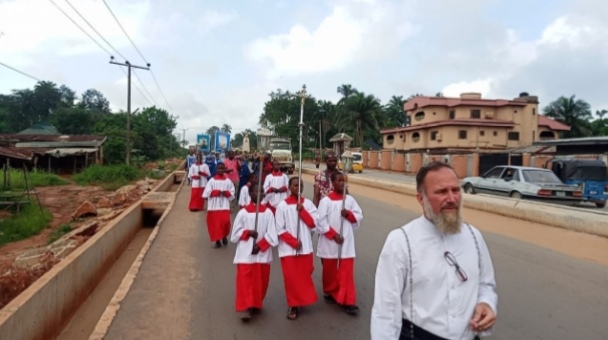 The members of Nne Enyemaka Shrine, a sub division of Catholic Church in Umuaka Njaba LGA on Friday 13 May 2022 embarked on her annual Fatima procession. The program which was organized to drum up spiritual support for peace in Nigeria and Ukraine kicked off from 8 am on the said date and lasted for several hours.
When Umuaka Times called on Rev Father Padre Angelo, the missionary in charge of Priestly Fraternity of St Peter and the Nne Enyemaka Shrine in Umuaka, Orlu Diocese, the priest confirmed that the event was held among several reasons including the restoration of peace in Orlu and the restoration of the catholic traditions which seem to be dying slowly by the years. The procession really focused on peace "for our friends and benefactors, for our Associate Members who support us prayerfully and financially each month, for the intentions of the Parish priest, and also for our own intentions", the priest told Umuaka Times.
Before the procession began, the priest appealed for those who could not make it physically to unite with them spiritually and appealed for them to pray for 5 days, in the morning, afternoon and night. Fr Angelo further lamented that there has been an in-depth loss of faith among catholic youths in the world of today. Considering what is happening in the world today, Father Angelo described the whole global scenario as an era of Apostasy. "We now live in the Great Apostasy as predicted". How are you sure is the Apostasy era? Umuaka Times asked. Hear him. "Contra factum non fit argumentum. It is so obvious one would be mad not to see it".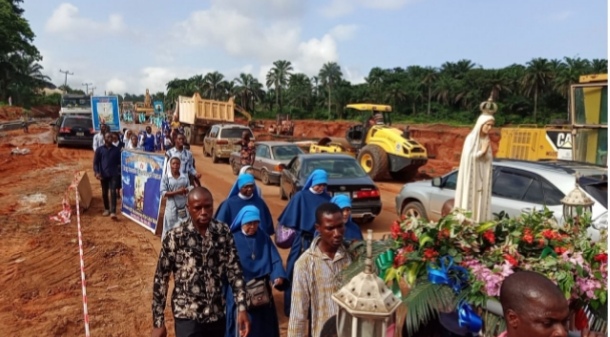 The historic procession successfully went as scheduled according to the details Umuaka Times gathered from Rev Father Angelo. Over a 100 persons followed the procession including Father Charles Ike. The church members walked from Umuaka to Orlu and walked back and the rain never disturbed them throughout the period. There was also a team of men who was pushing a truck which had a generator and the sound system used for the event.
Father Angelo described the procession as divine and appealed to people to do anything they can within their disposal to internalize peace among the people.