How the police averted fracas at the mystery crusade in Hilltop School.
2 min read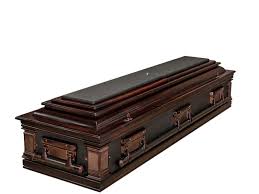 The Flame of Fire Jesus Deliverance Ministry Uloano Umundugba is a church many, especially the members believe works wonders through the name of God. The spiritual powers the members of the church associate the church with knows no bounds to the extent that the members believe that through the spiritual intervention of their pastor, they can stop untimely deaths. It was this conviction that gave birth to the religious gathering at Hilltop Primary School Uba tagged, Three Day Citywide Crusade codenamed, Bury Death Alive. The crusade which also promised to take care of issues like spiritual wickedness both at low and high places, exchange of destiny, killings of husbands and wives, barrenness, madness and more got struck in the grove on its last day when the youths of Uba noticed some strange moves by the church members.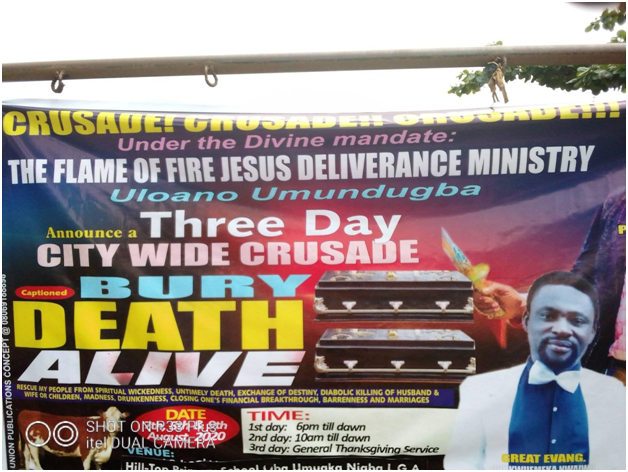 From what Umuaka Times reporter who visited the place gathered, the banner used to promote the crusade had two coffins on it and the church was said to have come with the coffins live for the crusade. Most members of the church dressed in blacks like people who were mourning their dead ones.  This packaging was understood by Uba youths as strange and mysterious and they stormed the premises of Hilltop Primary School Uba to stop the crusade. This move by the youths almost created a scene but some youths, policemen and church members were asking them to follow the path of peace.
As the commotion was gathering momentum, some policemen stormed the venue and held emergency talks with the youths and the lead pastor separately, in order to arrest any act that could lead to a breach of peace and order in the community. The pastor was  thensummoned by the police and some youths followed him to the police station where the police quizzed him on some certain issues concerning the crusade.
Some people who spoke with Umuaka Times wondered what gave the pastor the audacity to arrive the venue of the crusade with coffins in an ambulance. The youths believed that it looked diabolical to behave in such a rude manner. As it stands now, the crusade has come and gone but the heat is still on.