Indonesian police clamp down on Nigerian illegal immigrants
1 min read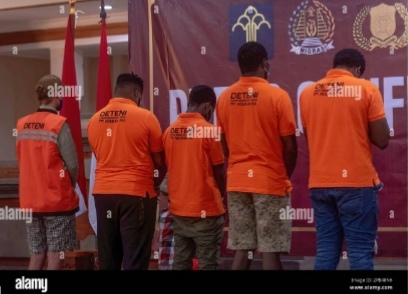 Last week, Indonesia, the world's third largest democracy clamped down on some Nigerians living illegally in the Asian country. The targeted Nigerians fell into the dragnet of Indonesian police force as most of them were traced to their houses where they were arrested. Umuaka Times correspondent in the Asian country reports that some Akalites living in the country were affected by the police raid. Already some Nigerians who were arrested during the raid have been reportedly deported.
This is not the first time Nigerians were being deported from Indonesia, in 2021, the Indonesian authorities deported 80 Nigerians who sprayed money on a popular Nigerian pastor referred to as Odumeje during his evangelical visit to the country. In March 2023, four Nigerians were also deported from Bali in Indonesia over visa violations.
As the number of illegal immigrants keeps growing around the world, it is believed that this may not be the last deportation from the Republic of Indonesia, a Southeast Asia and Oceania country between the Indian and Pacific oceans.
On another hand, many Nigerians living in the country had complained of negligence by the Nigerian Embassy anytime they suffered human rights violations. This ugly development Umuaka Times gathered, has led to the death of several Nigerians in the Asian country.