"My mother-in-law named me Adamma." Mrs Denisa Okoli.
14 min read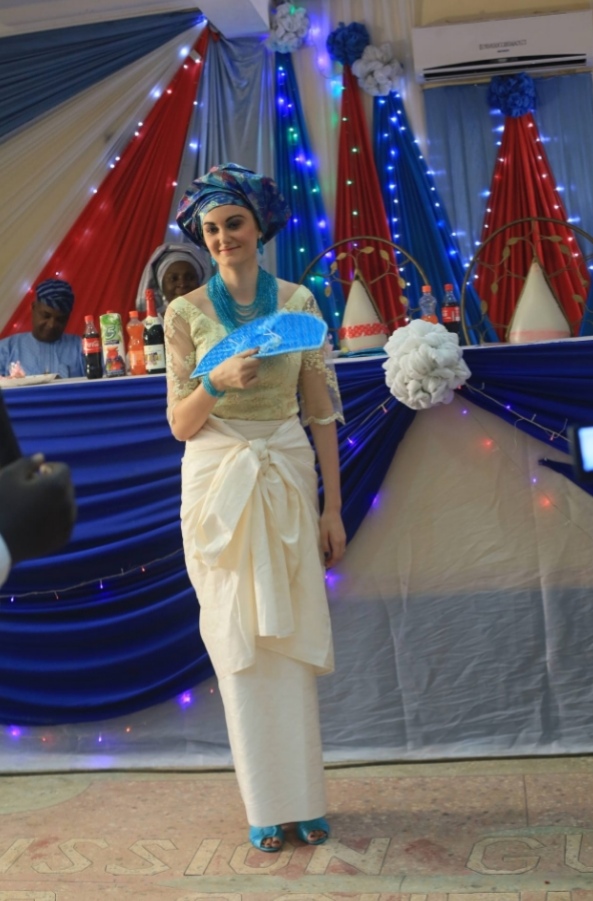 Mrs Denisa Adamma Okoli is one of the white European women who according to Loretta Golden in her book, Migrations of the Heart who ended up finding love in a transatlantic environment. Adamma as she is fondly addressed by those who cherish her a lot enjoys every bit of her Nigerianness which she acquired through her marriage with Dr Okechukwu Okoli from Ukpor, Nnewi, Anambra state. Adamma has learnt a lot about Igbo people and she is still learning more. 
Last week, Umuaka Times engaged her in an exclusive interview where she spoke on a large variety of things concerning Ndi Igbo, Nigeria and many other topics.
Excerpts:
How are you madam. So nice to meet you. Give us a little details about yourself.
Good morning, I am doing fantastic! Thank you, it's nice to meet you as well. I am a psychology & justice scholar, wife, mother of 2 and someone who is enthusiastic about life and everything that comes with it.
Which country are you originally form and where do you live now?
I am originally from the Czech Republic, which is in Central Europe right next to Germany, Austria, Poland and Slovakia. However, we've been living in the United States for past 6 years.
You speak and write Igbo. How did it all start?
Thank you for that bold statement but I am not yet that confident to say that. However, yes, I do speak and write some Igbo and still learning. Well, for the start, I lived with my (now) sister-in-law for a year in Kenya so I've been hearing occasional Igbo phrases like "bia bia" or "biko". I think that was my very first encounter.
(General laughter)What happened thereafter?
Later on, I started listening to Nigerian musicians who sprinkle Igbo words here and there so that was my other resource. The major interest, however came when my first daughter was born. Even before she was born I searched the U.S market for Igbo books and I bought anything and everything I could get my hands on. However, I was not able to teach her myself because I couldn't speak it and her dad is very busy pursuing a career in science and academia.
So how did the breakthrough finally come?
The major shift happened when grandma (my mother-in-law) came for my omugwo.(Some pronounce omugo – Editor), I presented her with a stack of Igbo books I bought and she started teaching my daughter. At first, I told myself that it's not the right time for me to start learning a new language because I just had a baby and learning requires uninterrupted time which usually doesn't go hand in hand. However, I started hearing the two of them speaking Igbo and I told myself Why not? I will try. First, I learned from the same children's books I purchased for the kids. Then we sat down and my mother-in-law wrote down and recorded different phrases and sentences for me. I started practicing immediately and one day when my husband came home from work and I asked him: "Di m, i choro nni olulo kobu osikapa jollofu? (my husband do you want to eat "swallow food" or jellof rice?). He smiled one kind of smile that I liked very much.
Oh really? Talking about your husband what is his name and tell us how you met him.
His name is Okechukwu but I call him "Lásko" which means Love in my language. I met him through his sister in Kenya where he came for holiday after finishing his Master's degree in Bulgaria.
What about proposal? When he proposed to you why did you accept? Some oyibo women would say "I can't marry a black man".
I accepted immediately because I fell in love with him. He proposed to me on Valentine's Day after just 2 weeks from the day we met. Yes, Nigerian men obviously don't waste time. To your other point, I can only say that having such a close-minded attitude will not help anybody in life.
For how long have you been married?
We've been married for 6+ years.
When you told your people that you were getting married to a Blackman from Nigeria, what was their reaction?
My mum was the easy one to convince. My dad is very protective so he had a hard time with the fact that his 22 year old daughter who just moved to Africa wants to marry someone she met only 14 days ago. Looking back, I completely understand and support his initial suspicion but back then I was upset and quite annoyed why can't he see it the way I see it. While I was busy being annoyed and complaining to my husband about it, he never ever said one bad or even slightly negative remark towards my father.
So what did he do?
In contrary and to my surprise, he told me he supports him and he's even happy my dad behaves this way because it only shows that he  his daughter. This is why I fell and keep on falling in love with him over and over.
How values do you describe your husband?
My husband is an extremely lovable person. The whole "storm" was over the very minute my dad met him. Despite the language barrier between them, I saw the two of them discussing how my dad built our house and they looked like two friends having a good time over a bottle of beer. "So why the initial gragra and shakara?" I thought to myself. (General laughter).
When he was proposing to you, did you believe him? You did not assume he was deceiving you?
He was an open book and straightforward with me from day one. He didn't hide a single thing from me so no need for any suspicion on my side at all.
Which state and town is our husband from in Nigeria?
He is from Ukpor, Nnewi, Anambra state.
How do his people take you. Do they really spoil you with love?
Haba! They spoil me tire. They were all so loving and welcomed me as part of the family. Occasionally, I receive gifts from their friends just because I am "their wife". That's not a part of my culture at all but a privilege I gladly accept and enjoy.
In Igboland, when a wife or woman is loved by all, they give her some special names, tell us the special names your husband and his people call you.
My mother-in-law started calling me "Mma" (Beauty) so I accepted it as my legal middle name "Adanma" (beautiful daughter). As for my husband, when he wants me to feel special, he calls me sweet names like Omalicha, Asa nwa, Asampete, Egovin, etc.(Prolonged general laughter).
Give us the details of your first arrival in Nigeria, how you felt and how you enjoyed it.
At first, I arrived in Lagos. Lagos was busy and crowded but I enjoyed some amazing beach time and learning how to cook traditional dishes with my sister-in-law. There, for the first time, I cooked snails and pounded fresh coco yams and palm fruit. I flew to Abuja and stayed with other family members before arriving in Kaduna to meet my fiancée.
What about outing and what did you enjoy eating?
I enjoyed going out with my husband and his friends and I enjoyed meeting the locals. My favourite was to eat roasted corn, fresh fish pepper soup but most of all grilled cat fish from local places. On lazy afternoons we chilled in Gamji Park or visited family friends. We also did a one-day trip and drove to Zaria to visit my husband's alma mater and ate their famous campus suya there. I absolutely loved my time there and it feels like home to me.
Would you like to experience such safari again?
My husband will tell you that I've asked him multiple times in past couple of years to go back or move there.
Ok how about the local women, how did they relate to you?
The young ones saw me as a threat – the typical "how dare you marry our brother, reducing our men for us" attitude. The business oriented ones related to me in "look, oyibo! let's make some extra cash" attitude. On a serious note, most people accepted me with arms wide open and the above mentioned examples were not serious issues for me at all.
When you put to bed your two children, who came for the omugwo? Your mum or your mother-in-law?
My mother-in-law came for omugwo both times. Omugwo is not a common tradition in my culture and also my mum still works full-time, whereas my mother-n-law is retired so she was able to come.
How was it like spending long period of time with her?
She spent 3 months with us the first time and this time around she's been here for 3 months already and my omugwo is still going on so I would say it's going pretty well.
Can you share with us some of the things you have learnt from your mother in- law?
A lot. Where do I start? The thing is, I always tell myself if I don't learn from her, who will I learn from? I remind myself that (as of now) I have 2 girls and by the grace of God I will go for their own omugwo one day so I want to learn as much as I can from her. For example, I used to be very rigid in following recipes especially when I cooked it for the first time being it Ofe Nsala, Ofe Ogbono or Egusi). I know how to cook them and cook soups frequently but I never used to divert from the original recipes because I wanted my husband to eat authentic food.
How creative is your mother in-law in the kitchen matters?
On the other hand, my mother-in-law is very creative in the kitchen. One day she sprinkles cinnamon in jollof rice and the next day she adds bell pepper in moi moi and it all turns out very well. Also, by watching her still working on herself at almost 70 years – being it a physical health or further education – encourages me to bring my own projects and visions to life. She's a woman of God and seeing her pray for hours inspires me a lot.
Let's go back to your husband and you again. Umuaka Times learnt that both of you are very well educated. Can you explain further?
It's all by the grace of God. I haa my first degree from Bulgaria where I spent 4 years while flying back and forth to either Nigeria or later U.S. to see my husband. That is if there was money to do so. My husband has a Master's degree from Bulgaria and he is currently a month away from finishing a PhD in Material Science and Engineering.
You mean your husband is a scientist?
He is a brilliant scientist and I adore his work ethics and passion which inspired me to set high goals for myself. Last year I joined him at the university here in the U.S where I got my Master's degree in Justice Studies before I went on my maternity leave.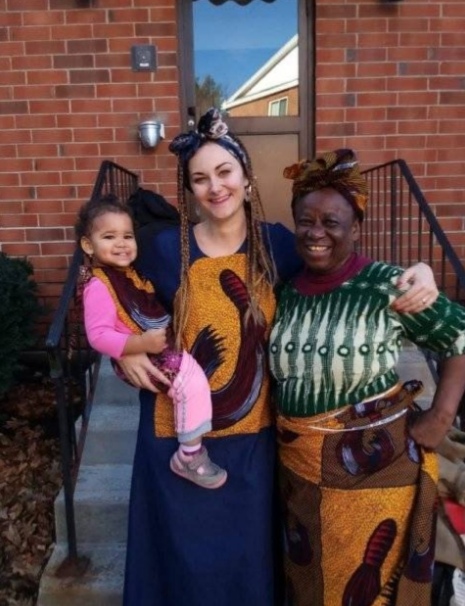 That is amazing. Ok let us talk about Igbo culture again. You like a lot of things about Igbo culture. What are the things you don't like about the Igbo people and their culture?
I left this question to the very end because nothing truly comes to mind right now. I rather look for things to admire and focus on that.
When your husband told you about the Nigerian Biafran War, when the whole of Nigeria fought against the Igbo and killed 3 million of them especially children, what was your reaction?
I was horrified and went online to find more resources on the topic.
Was there anything in your country that looked like that in the olden days?
Czech Republic (former Czechoslovakia) went through a pretty tough period of state socialism before declaring democracy. In 1989 there was a nationwide protest called Velvet Revolution that ended more than 40 years of communist rule in the country. It affected the lives of my grandparents and my parents greatly. My grandmother and my mother were denied access to education because their parents refused to join the communist party. My great-grandfather who owned more than 100 horses had all his property confiscated and was exiled to move 40 km away and never return for the same reason – no compliance with the regime. It was tough. However, not as tough as during the World War II when Czechoslovakia was occupied by Nazi Germany.
Were there concentration camps?
To my knowledge, there were at least 2 concentration camps in Czechoslovakia where political prisoners or members of persecuted minorities (mostly Jews) were imprisoned, forced to labor or await mass execution. Just thinking of the history of such a small country of 11 million people and what its people withstood makes me proud of where I come from.
That was indeed a good example. Ok, in Nigeria today what are the things you so much enjoy?
Do I start with a unique composition and exceptional quality of pure cotton materials or a blinding beauty of coral beads? We can spend the whole interview with this question and I have not yet started talking about food. If I have money to spare you can see me buying sego, gele, 6 yards of lace, auto-gele and ipele or above mentioned bead jewelry. They are not impulsive purchases, each item culturally means something and I am already dreaming of the day my daughters will inherit some of these items.
Food nko?
Next thing is food. I can't imagine my week goes by without soup and swallow, jollof rice or stew. There is nothing like a smell of freshly grounded crayfish or red oil melting in a soup. (Editor cuts in: Mma, please stop speaking hunger into me biko. general laughter).
Besides tangible things, it is the life that I enjoy. What I mean is that – Nigeria is alive. You can never be possibly bored there. Just to think of the bubbling tiny streets of Kaduna Central Market, there is always something happening, something to see, someone to meet, something to learn. People live a communal lifestyle which is very different from the Western world.
Ok lets go to the Nollywood industry. Who are your favourite actors and actresses?
The first one is indisputably Pete Edochie or "Okonkwo" as I call him. I fell in love with Okonkwo as a book character, therefore it was easy to fall in love with the actor impersonating him as well. Besides him, I adore RMD – he is a brilliant actor and very good looking for his age. I also enjoy movies with Sola Sobowale, Ireti Doyle, Enyinna Nwigwe, Shafy Bello, Tina Mba, Dakore Akande, Adesua E. & Banky Wellington, just to name a few.
What about musicians?
Sinach's songs touch my soul so I'll put her first. I also love worship by Asa, Judikay, Ada Ehi and Nathaniel Bassey. From the contemporary music, I love Flavour, Burna Boy, Fireboy, Yemi Alade, and Davido. Korede Bello's old school hit Dorobuchi brings memories of my husband and I driving from Kaduna to Abuja stopping on the side of the road to buy some fried akara. Hot and humidity in the air and us singing from the top of our lungs "Doro hot. Doro Minado. Doro Fine. Do Do Dorobuchi eh". Oh, these memories make me so happy. (another prolonged general laughter).
If given the opportunity to act in Nollywood, would you accept? And which role would u like to play?
That's an interesting question – I've never thought about it. I have no experience with acting and no desire to so, therefore the answer would be no – I'd leave this area to others who enjoy doing it.
What is your impression of Thinks Fall Apart. I am sure you have read it.
Things Fall Apart and other books by Achebe and Soyinka made me fall in love with Igbo culture deeply. I was able to discover the Igbo lifestyle and customs from a historically different perspective – that is, until then I knew only what I've seen or heard from recent times. I took notes. Lots of notes.
My takeaway is that Igbos have written and unwritten rules and customs which they do respect at all times. Secondly, life is uncertain and can change within seconds such as when Okonkwo mistakenly killed a boy and was asked to leave the clan. Even then he did not question the customs, packed his bags and left without a word. However, he did not give up hope for 7 years before he returned. Igbos take pride in their identity and are very strong willed.
From the way things are, it appears you hope to write a book someday about Igbo people?
Well, there are lots of things I plan to do for sure! If writing a book is one of them and God approves then who am I to argue? For now, my desire is to do my best in preserving the language and making sure I raise children with cultural awareness and pride in their multicultural identity. I want them to be able to identify and connect with Igbo people, those growing up in Diaspora or in Igboland.
When the time is right I would be happy to contribute in educational or developmental sector as well. My husband and have many incredible plans and visions for future projects and businesses in our home countries and if his plan hasn't changed, he always wanted to retire in Nigeria.
We'll see where God leads us.
Let's go back to your marriage once again. Many Igbo women find it very hard to relate with their mother in-laws. What is your advice for them?
It will be the same advice my husband gave me years ago. He said "your relationship with your mother-in-law will be what you make it to be". To that, I would add not to be discouraged by the unpleasant stories people hear about their in-laws, you can create a beautiful relationship despite other people's unpleasant experiences.
Do your children speak Igbo and what are their names?
Our first daughter is Joy Ngozi and she can name, recognize and understand a lot of things in Igbo. When I drove her to the pre-school the other day she shouted "nkịta" for dog or "anynia igwe" when she saw a bike, and when grandma tells her "biko, nye m mmiri" (please give me water) she runs to her room and brings her a bottle of water. Of course, she is at the beginning of her Igbo language journey as she is just turning 4 and speaks two other languages in addition to that. Our newest addition is Eden Ginikanwa and she is yet to start talking. I wonder what her favourite Igbo word would be and I can't wait to hear it.
How many languages do you speak in all?
My first language is Czech, and I have a very good comprehension of Slovak language. I consider English to be my second language. I have been learning Igbo and Spanish but not yet fluent.
Is it true that Igbo language is very hard to learn?
It certainly is true for me and it is the intonation that makes it challenging. In my native tongue, we put stress only on the first syllable in every word. No exception. However, in Igbo the stress can be elsewhere which changes the meaning completely. Another thing that poses challenge for me is that most resources – books I purchased or videos I watch – are created by Imo people and therefore teach Central Igbo. As my mother-in-law would say, I am "married to Anambra" and so I try to learn the local dialect as well.
Please give an example.
For example when she asks me "Kedu ka isi rahusia?" (how was your night?) my response usually is "Ofuma ofuma"(excellent). For some words, I know the two translations but that also makes it more complicated. On a positive note, I have my whole life to learn so I take it step by step, day by day.
Adamma nwanyi oma, it was fine talking to you. You are one in a million. Remain blessed and welcome to Igboland.
Thank you so much! It was lovely talking to you as well and I wish The Umuaka Times lots of engaged readers and successful years ahead.