Odumeje motorcycle hits N850,000.
2 min read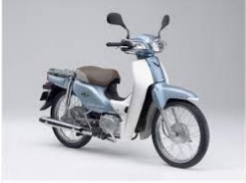 The popular high racing motorcycle used by "motorcycle boys" in Umuaka nicknamed Odumeje is now selling for N850,000. Umuaka Times went into market survey last week and got the shocking news. For some time now, the motorcycle had been selling for N850,000 after the price rose from N750,000 earlier this year. Some motorcycle sellers who spoke with Umuaka Times confirmed that one of the reasons for the rise in the price of Odumeje was because the motorcycle has been made popular by "motorcycle boys" in Umuaka and environs. Another reason they confirmed was the continuous sliding of the Naira which now sells for N645 at the street market in Nigeria for one US Dollar.
The high cost of Odumeje motorcycle did not in any way stop some young Akalites from purchasing the high-speed bike. One 21 year old Obinna (not real name) who spoke with Umuaka Times confirmed that his peers ("motorcycle boys")buy at least 8 Odumeje motorcycles in a month despite the high cost. Some of the "motorcycle boys" who have run out of cash due to their extravagant lifestyles Umuaka Times was informed, have ended up selling their motorcycles at give away prices to their fellow "bike boys".
Motorcycle snatchers have also found love in Odumeje as their most favourite target. It is on record that many "motorcycle boys" have lost their Odumeje motorcycles to highly armed bad boys in town at various places in and outside Umuaka. Umuaka Times was reliably informed that the bad boys who snatch the Odumeje motorcycles, can strike at anytime and anywhere. There are some confirmed reports that the motorcycle snatchers have at times ended up killing some of their victims at gunpoint.
To buy an Odumeje motorcycle is an open invitation to trouble of many sorts. The motorcycle has an excellent performance which pushes the rider to always ride it on top speed, even on the slow lane. As a result of this, a good number of Odumeje motorcycle owners have ended up sustaining severe injuries after big falls.
The maintenance of Odumeje motorcycle is another big headache for its owners. The ownership of Odumeje can pose what Fela calls "double wahala for dead body" especially for those who have run out of cash; it is always a herculean task for them to maintain their lifestyles and maintain the very expensive Odumeje motorbikes. For now, the grove derived from Odumeje has turned controversial as, high cost of the motorcycle, its maintenance and the trouble from motorcycle snatchers have turned the whole scenario upside down. Driving Odumeje now in Umuaka is risky because it has the monstrous capacity to dry your pockets, lead you into accident or bring you face to face with dare devil armed robbers who may take the motorcycle and the life of its owner as well. Only time will tell for the "Odumeje boys".