Chief Ikwubuo Bags Imo State Merit Award.
2 min read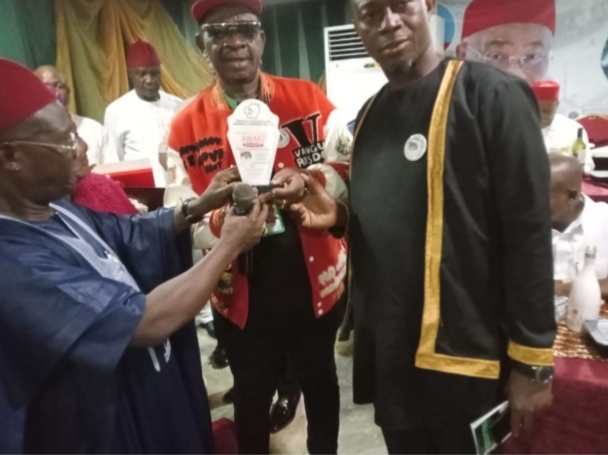 The last Executive Chairman of Njaba LGA and the current Government Liaison Officer of Umuaka Ward 1, cum the coordinator of all government liaison officers (GLOs) in Njaba LGA, Dr Eddy Chidi Ikwubuo has bagged a merit award from the umbrella group of Imo development centres. The award which was presented to Dr Ikwubuo (the Aguneche Mba Njaba) and the Government Liaison Officer in Njaba took place last week at Rockview Hotel Owerri. Owerri is the capital city of Imo State in the Southeastern part of Nigeria.
According to Dr Ikwubuo, the award came in recognition of his efforts in ensuring and bringing positive changes in the areas he represents in the state.
While receiving the award, Dr Ikwubuo urged Imolites to identify with APC, support the current government and also support the laudable people oriented projects and programs of the governor, Chief Hope Uzodimma. He also appealed to the people to support and align themselves with the developmental strides of the various development centres in the state particularly the ones in their areas.
Dr Ikwubuo who is also a High Chief equally reminded the people present during the award gala night that developmental projects should not be left in government hands and called for all hands to be on deck to assist the government to develop the state. He extolled Governor Hope Uzodimma in his wonderful road projects in the state. He told the gathering that Governor Uzodimma has been able to bring infrastructural revolution in Imo State. The award recipient told the audience that the meaningful strides of the governor has cut across all local government areas in the state. He went further to call upon Imo youths in the state to be more productive in their overall endeavours and eschew all forms of vices.
While immensely thanking the organizers of the wonderful award for finding him worthy for the good leadership skills based award, Dr Ikwubuo sued for absolute peace in the entire state for there will be no more meaningful development in the state in the culture of high levels of insecurity.