Nigerians Lament as Fuel Subsidy Bounces back.
2 min read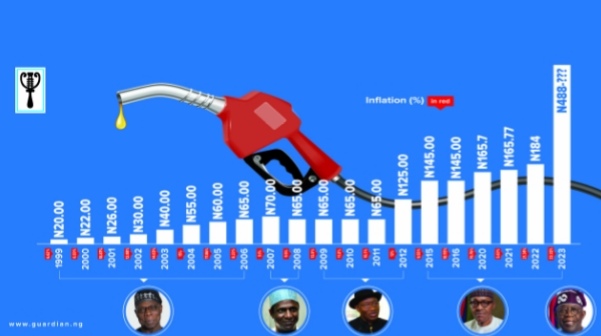 If what Umuaka Times heard last week was anything to go by, the fuel subsidy the APC-led Federal Government of Nigeria removed immediately it came to power on May 29, 2023 has been reportedly restored through the backdoor. Umuaka Ti8mes gathered last week that the Federal Government of Nigeria pad reportedly paid the whopping sum of N169.4 billion in the month of August to petroleum marketers and other agencies. The reason for this payment was to keep the pump price of the commodity at N620 per litre.
A Nigerian daily newspaper, Daily Trust recently reported that an inquiry at the Federal Account Allocation Committee (FAAC), confirmed that just last month of August 2023, a subsidiary of NNPC, the Nigerian Liquefied Natural Gas (NLNG) paid the sum of $275m as to Nigeria through NNPC Limited. Another newspaper reported that the "NNPC Limited used $220m (N169.4 billion at N770/$) out of the $275m to pay for the PMS subsidy. Then NNPC held back $55m."
The above information shows that the fuel subsidy is back and the Federal Government of Nigeria has already begun making whopping payments to concerned entities.
Based on the current scenario, critics scattered across the country have raised an alarm that the subsidy removal has failed, floating of Naira failed and the unification of dollar exchange rate has failed also. The ripple effects of the current situation in Nigeria today indicates that one US Dollar is almost exchanged at N1000. All these developments took place within the four months of the new APC administration.
The Federal Government of Nigeria is yet to confirm this development in the oil sector to industry watchers, stakeholders and the Nigeria citizens. From the look of things, there is a strong suspicion that the pump price of premium motor spirit otherwise known as fuel, may continue to go high.