Chief Dona Nwaokike for burial on August 13.
2 min read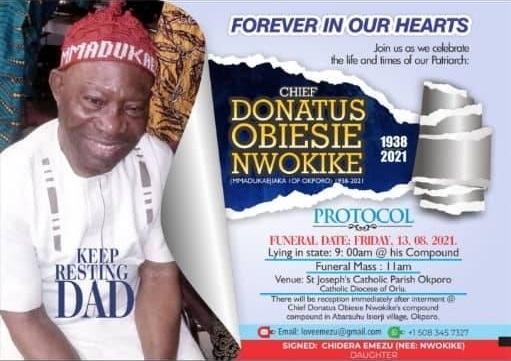 The burial date of late Chief Donatus Obiesie Nwokike (1938 to 2021) who died a couple of months ago has been fixed in his home town Okporo in Orlu Senatorial Zone Imo State. Following the press statement signed and released by the German based first son of the deceased, Mr Kingsley Ikenna Nwokoke, his dad who until his death held the title of Madukaejiaka 1 of Okporo will be buried on Friday August 13, 2021 in his Isioji Abara Ihu Amanator Okporo Autonomous Community in Orlu Imo State. AbaraOkporo home town. It was disclosed to Umuaka Times that the burial date had been delayed for so long due to the Covid19 lockdown and the ripple effects that followed immediately across the country.
The late Chief Dona Nwokike who was married to the owner of Nwamma Maternity Hospital, Mrs Cecilia Nwokike came to Umuaka around 1976 and settled with his family. The family has been peacefully living in Umuaka community from then till date. The death of Chief Dona Nwokike shocked many Akalites due to the cordial relationship the family enjoys from many families in the community. Chief Dona Nwokike was mostly addressed as daddy by many Akalites and his wife was also addressed as mummy by many.
Following the burial arrangements for the deceased, Umuaka Times was reliably informed that  a lying-in state of the deceased will be held by 9:00 am in the family compound of the Nwokikes in Okporo. Immediately after the lying-in state, a requiem Mass will be held for the repose of the soul of the deceased at St Joseph's Catholic Church Okporo by 11:00 am. Reception for guests has been scheduled to hold in the family compound of the Nwokikes.
Before his death, Chief Nwokike was a devout Catholic faithful and a successful businessman known throughout Umuaka and other nearby towns. Many Akalites who related with the family in several capacities will definitely miss him. Chief Nwokike lived for 83 years and he is survived by his wife,  many children, grandchildren, relations and family friends.
Umuaka Times mourns with the Nwokike family over this great loss of the patriarch of the family.